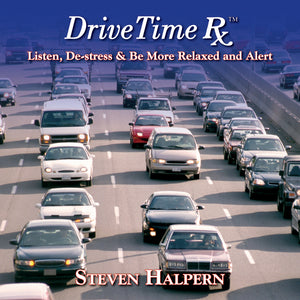 DRIVE TIME RX
Regular price $14.98 Sale
Listen, De-Stress and Be More Relaxed and Alert.
"DRIVE TIME Rx is a breakthrough audio program that can take (at least some of) the stress out of driving. It enhances safety, courtesy and mindfulness. The perfect gift for every driver!"  -- Leading Edge Review
The secret behind this CD? I include a series of suggestions that were sourced with assistance from professional driver skill enhancement trainers. The words are subliminally encoded so softly in the music that you usually can't hear them. Your subconscious mind does, however, and responds automatically!
Examples include: I am relaxed and alert at all times.  I exhale stress and tension and return to my center of calm.  I check my rear view mirror frequently.  I am in control of my emotional response to inconsiderate actions of other drivers.
The first eight songs are more rhythmic, featuring Paul Horn and Paul McCandless. The second half of the album is more gently relaxing. You choose which tempo best suits your needs at that point in time.