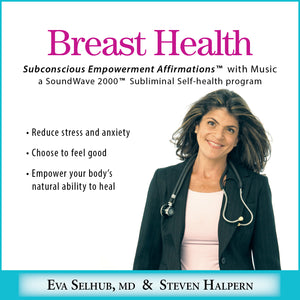 BREAST HEALTH Eva Selhub, MD Subliminal Affirmations
Regular price $14.98 Sale
Harness the power of the mind to support your health and well-being with life-affirming affirmations and healing music.
• Reduce stress
• Choose to feel good
• Empower your body's natural ability to heal
A charismatic media presence, Dr. Selhub integrates traditional Eastern wisdom with the latest breakthroughs in understanding the power of the 'mind of the heart', and shows us how to create a positive physiology by yourself, for yourself, that stimulates our natural ability to heal.
Exciting research in the leading edge of holistic/integrative health has demonstrated that our thoughts and feelings can play a significant role in our health and well-being. By becoming an active participant in your own healthcare program, you can make a positive difference in your life.
BREAST HEALTH distills Dr. Selhub's approach with a series of positive affirmations. The first half of the soundtrack features my relaxing music; the second half is more uptempo. This gives you the option of choosing the vibe that best suits your mood.
On this program, the first section of songs are relaxing.  Then there are a few rhythmic grooves to move the energy around.  And we end with a 20 minute track that's also ideal to listen to as you fall alseep. You choose the music that best fits your needs.